Tearing up Center Court
March 17, 1990. One of the crappiest days of my life. The day I lost the National Championship. By 2 points, at the buzzer, my senior year. I still dream about the game, dream how my life would be different if we had won.
That day, the script I had been handed, the outline that guided me, went up in flames, and the ending I expected–that everyone around me expected–vanished.
I believe we all have moments when our lives derail & leave us collapsed at center court in disbelief, wondering how the hell we got there. I also believe that excavating these moments & understanding their resulting ripples, is a way to make peace with them.
Grab your pick axe & meet me at center court. Together, we'll tear apart the moments that have brought us to tears, led us to the Sacred, destroyed our dreams, reignited our passion, left us humbled, proud, disillusioned, joyous and more fully human.
What could be more fun?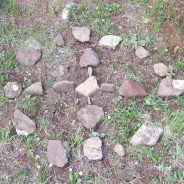 Last month I had the opportunity to read my first published piece of writing in front of a live audience.  It was beyond super fun.  Bright lights, good laughs & sharing the stage with other stupendously creative folks.  I even received a bouquet of flowers. On the way home, when I thought about how ridiculously awesome the evening was, one thing stood out as bringing it all together for me: my tribe showed up. I had friends, family, co-writers & co-workers all show up either in person or by text or voice mail to wish me well &...
read more